Sports » Latest News
Sports
Posted: Dec 14, 2016 9:28 AMUpdated: Dec 14, 2016 1:10 PM
Bruin Boys Settle into Winter Break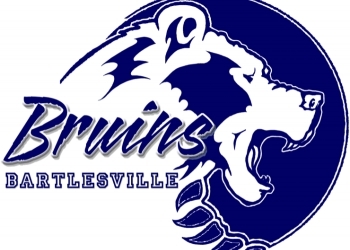 The Bartlesville High boy's basketball team is taking a step back to look at the first part of the 2016-2017 campaign – There has been good and bad in the Bruins first six games of the year.
A promising start to the year ended in a 3-3 record going into Winter Break for the Bruins. Bartlesville started 2-0 with wins against Sand Springs and Owasso. BHS then lost three straight to Union, East Central and Deer Creek.
The boys ended the final stretch of the first part of the season with an overtime victory against Coweta on Saturday in the Bixby Tournament finale, 52-48.
The Bruins might have had some fatigue issues toward the end of the Bixby Tourney, after playing four games in five games. Bartlesville head coach Clent Stewart says he wants the guys to get used to playing daily down the stretch.
Sophomore Tayo Dina was a major part of the Bruins win against Coweta. Dina scored 20 points with numerous offensive rebounds and put backs. Stewart talks about his performance.
Salvaging a game in Coweta was key for BHS, who avoided going 0-3 in the event.
Bartlesville next play in the ConocoPhillips Arvest Invitational on Jan. 5 at Bruin Fieldhouse.
You can listen to the full interview with Stewart on our Coach's Corner Page.
« Back to Sports