Sports » Latest News
Sports
Posted: Aug 04, 2022 11:16 AMUpdated: Aug 04, 2022 12:16 PM
Bruin FB Practice Days Away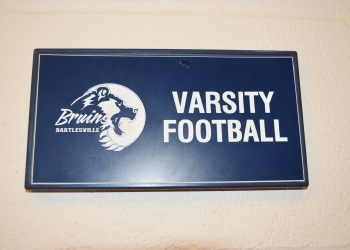 Bartlesville High football is only four days away from practice beginning at Custer Stadium. The Bruins, along with the rest of the state of Oklahoma, will start practice on Monday.
It was a record-setting summer workout session for BHS, with more than 300 athletes out for action from elementary school all the way through 12th grade.
Head coach Harry Wright talks about the summer session wrapping up.
2022 will be an interesting fall for the Bruins with a crop of talented, albeit younger, players with quite a bit of varsity experience.
Quarterback Nate Neal is a sophomore this fall, but has some varsity action from a year ago. Kaden Brown, Austin Zink, PJ Wallace and Damien Niko will be other names back for another fall.
BHS will also welcome in a few new District opponents. Games vs. US Grant and Tahlequah, at Stillwater will headline a new east-side of 6A-II. Bartlesville will have an intersquad event on Friday, Aug. 12.
The Bruins scrimmage Ponca City on Aug. 19, then begin their season Sept. 2 at Claremore
« Back to Sports