Sports » Latest News
Sports
Posted: Sep 16, 2020 6:19 AMUpdated: Sep 16, 2020 7:19 AM
Bruin Football Coaches Show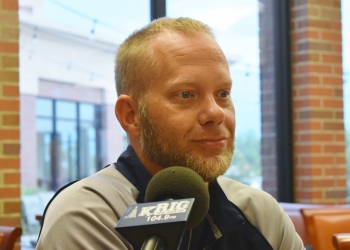 Bartlesville High football has begun working to rebound from its first loss of the season. The Bruins fell at Sapulpa this past Friday and will have another tough 5A program in Collinsville this Friday.
Bartlesville fans who are interested in going to Collinsville for the game will not need to buy their tickets beforehand. Collinsville is not preselling tickets, nor is there a capacity limit. Masks will be required.
Bruin head coach Jason Sport and a senior player will speak with us on Wednesday evening during his weekly coaches show.
The program airs from 6:00-7:00 every Wednesday night on KWON – AM 1400 and FM 93.3 and you can watch it on KWONTV.com.
Bartlesville has only played Collinsville twice in its history, with the Cardinals winning both the matchups the past two seasons.
Also in a fundraising note, the Bartlesville Quarterback Club is selling 11 inch potted Mums on the East side of the High School on Saturday Sept 19th Morning from 9 to 12 to benefit Bartlesville Football
« Back to Sports