Sports » Latest News
Sports
Posted: Sep 30, 2022 1:15 PMUpdated: Sep 30, 2022 2:15 PM
Bruin Football Looks to Rebound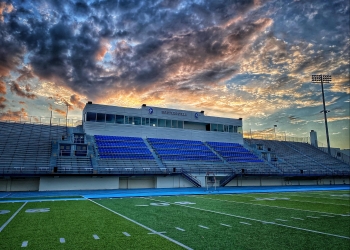 At Bartlesville High, the Bruin football team is trying to snap a three-game losing skid on Friday night
BHS will host US Grant at Custer Stadium.
It is the first ever meeting between the Bruins and the Generals. US Grant had spent several seasons playing outside of the OSSAA to try to gain some momentum inside of its program. The Oklahoma City Public School is 0-4 and is coming off an 85-0 loss to Stillwater last week.
Bruin head coach Harry Wright says he would like to see the defense come up with some turnovers.
Bartlesville forced seven turnovers in its first two games, but has only forced once since then.
Meanwhile on the offensive side of the ball, BHS is coming off a season low in yards. Booker T. held the Bruins to 179 yards. Bartlesville has shown flashes, but has yet to score more than 25-points in any game this season.
Wright says the offense has a chance to get more consistent as the season continues on.
Bartlesville and US Grant, someone going to get District win No. 1 on Friday evening.
A 6:30 pregame and a 7:00 kick from Custer Stadium. We will have coverage on KWON – AM 1400, FM 93.3 and 95.1.
Video livestream on KWONTV.com.
« Back to Sports