Sports » Latest News
Sports
Posted: Nov 08, 2019 8:12 AMUpdated: Nov 08, 2019 9:12 AM
Bruin Football Wraps up 2019 vs. Shawnee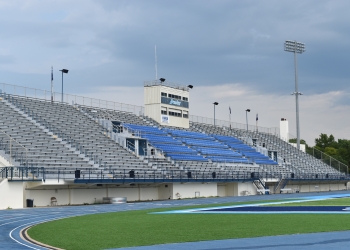 Bartlesville High will celebrate 16 seniors who will wrap up their careers on Friday evening for senior night against Shawnee.
The Bruins cannot make the playoffs due to point differential in district play, but it does not lessen the importance of the contest against the Wolves. BHS head coach Jason Sport talks about his seniors playing the final game of their careers.
Shawnee presents an interesting challenge. The Wolves are 2-7 with only one district win, however they own the only victory over Muskogee this season. Shawnee has also been eliminated from playoff contention.
Bartlesville won this game in a slugfest at Shawnee a year ago, 58-51. Sport says that the Wolves will enter Custer Stadium expecting to compete.
Bartlesville hosting Shawnee at Custer Stadium on Friday night – a 7:00 kick with a 6:30 pregame on KWON – AM 1400 and FM 93.3. You can also watch the Bruins online at KWONTV.com.
« Back to Sports