Sports » Latest News
Sports
Posted: Mar 16, 2023 8:39 AMUpdated: Mar 16, 2023 9:40 AM
Bruins Back in Action in Alabama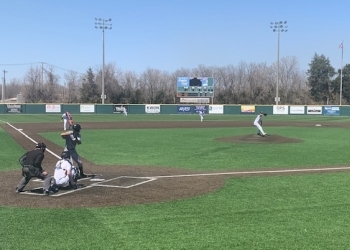 Bartlesville High baseball suffered its first loss of the team's trip to Gulf Shores, Alabama. The Bruins lost to Gallatin, Tennessee on Wednesday afternoon, 6-5.
Gallatin did most of its damage early in the game, scoring four runs in the first two innings.
However, two runs in the top of the seventh would spoil a Bruin comeback bid. Bartlesville scored three runs and had the game-winning run on base in the bottom of the seventh before a BHS strikeout would end the game.
Zeb Henry, Nik Johnson and Eric Olenberger all had two hits in the game.
The Bruins wrap up the pool play portion of their schedule at 3-1 and move into bracket play of the tournament on Thursday.
« Back to Sports