Sports » Latest News
Sports
Posted: Jun 25, 2019 7:13 AMUpdated: Jun 25, 2019 8:13 AM
Bruins Continue Work in 7-on-7 Passing League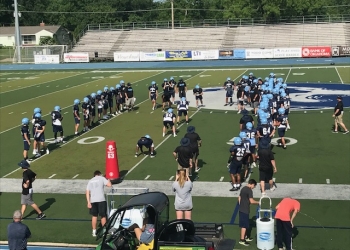 Tuesday means it is time for more 7-on-7 passing league action for the Bartlesville High football team.
The Bruin varsity players have been in Sand Springs for passing league competition throughout this month, and will have its second-to-last appearance for the summer this week. Next week is a dead week for student athletes throughout the state, and the passing league will wrap up on July 9. Bartlesville head football coach
Jason Sport says there are a lot of things to be pleased about when it comes to the Bruins in 7-on-7.
In addition to varsity players at Charles Page High School, the BHS JV guys have been competing against varsity players from Dewey, Barnsdall and other smaller schools from throughout the area in the Dewey passing league, which is held on Mondays.
Sport says the separation of the varsity and JV groups has meant more snaps for all the players out for the team this summer.
Bartlesville had upwards of 80 guys out for football during the spring portion of its practices in May. We will have more on Bruin football as the offseason moves on.
« Back to Sports