Sports » Latest News
Sports
Posted: Jan 13, 2021 6:58 AMUpdated: Jan 13, 2021 7:59 AM
Bruins Fall in Heartbreaker vs. Booker T.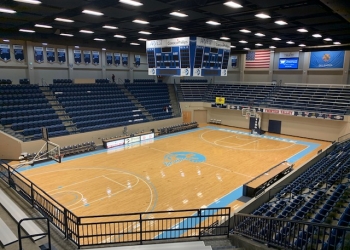 Both the Bartlesville girls and boys basketball teams lost their third straight home game on Tuesday evening at Bruin Field House.
Booker T. came away with a sweep in dramatic fashion on an early senior night for both teams.
On the ladies side, BHS got off to a slow start and was unable to dig itself out of the hole. Lady Hornets led by as many as 31, Bartlesville cut the lead to as low as 21 before losing 60-37.
Both seniors in Jordan Bilger and Allie Wood played well, combining for 11 points.
The Bruin guys lost a heartbreaker by a single point.
After leading by 10 with 3:18 left to play, the Hornets forced Bartlesville into some turnovers and won the game 63-62.
It was two Booker T. foul shots with 2.5 seconds left that put the Hornets on top. Bartlesville trailed by one earlier, but briefly had the lead back in the final seconds on a great pass from David Castillo to Nick Smith, before Booker T. was fouled on its ensuing possession.
Bartlesville was outscored 17-6 in the final 3:18 to fall by one. Castillo had a career night for BHS, scoring 29 points and dishing out five assists.
The Lady Bruins fall to 2-8, the Bruin guys are 3-7.
Both teams are next at Muskogee on Friday for another double-header.
« Back to Sports