Sports » Latest News
Sports
Posted: Oct 16, 2020 7:26 AMUpdated: Oct 16, 2020 9:06 AM
Bruins Fall to Ponca in Slugfest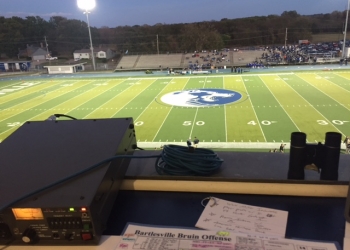 Bartlesville High football lost another tough one, as Ponca City came into Custer Stadium and stole the ConocoPhillips Bowl.
The Wildcats won a defensive battle, 10-7.
BHS had the ball down by three, having to go 90 yards in 1:37 at the end of the game. Bartlesville made it to the Ponca 39, but a pass that was ruled to be backward, and a fumble, ended up wasting the final 15 seconds, and Ponca City was able escape with the victory.
It is only Ponca's second victory in the eight-year history of the ConocoPhillips Bowl.
The game didn't always look like it was going to be low-scoring.
Bartlesville scored on the opening drive of the game, a Paxton Bradford quarterback keeper got the Bruins on the board first.
Bartlesville managed only 74 yards of offense in the second half, as the stingy Ponca defense was as advertised. BHS had two first quarter turnovers on back-to-back drives that ended up taking some wind out of the Bruins sail following the opening drive touchdown.
Bartlesville's defense held on multiple possessions inside its own 20, as three straight Wildcat possessions ended in no points after Ponca had driven deep into Bruin territory.
Bartlesville drops to 2-5, BHS will next host Putnam City West on Friday, Oct. 23.
« Back to Sports