Sports » Latest News
Sports
Posted: Mar 22, 2023 7:53 AMUpdated: Mar 22, 2023 8:57 AM
Bruins Finish Tahlequah Sweep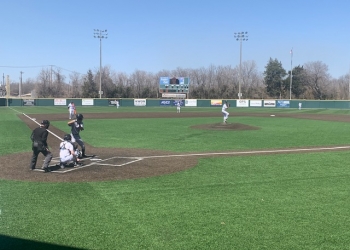 Bartlesville High baseball tallied its first District sweep of the season on Tuesday night.
The Bruins beat Tahlequah in a pitcher's duel, 3-0.
Brenden Asher again was the story. Asher threw his second straight complete game. It was seven innings of shutout baseball. Asher struck out nine, walked three and gave up four hits.
With Bartlesville leading 3-0, Tahlequah brought the tying run to the plate in the top of the seventh before Asher got his ninth strikeout to win it.
The game was not an exhibition in offense for the Bruins. A day removed from scoring 12 in a run-rule victory, Bartlesville was only able to get four hits against the Tigers. The Bruins had to manufacture all three of their runs without base hits. BHS scored on an RBI ground out and two sacrifice flies.
Head coach Cody Price talks about his team's offensive night.
The win moves BHS to 7-4 on the year and 2-2 in District play.
We have the broadcast from last night on KWONTV.com.
Bartlesville is off until Thursday when the Bruins begin their annual Bruin Classic at Bill Doenges Memorial Stadium.
« Back to Sports