Sports » Latest News
Sports
Posted: Jan 24, 2023 7:47 AMUpdated: Jan 24, 2023 10:46 AM
Bruins Basketball Postponed Tuesday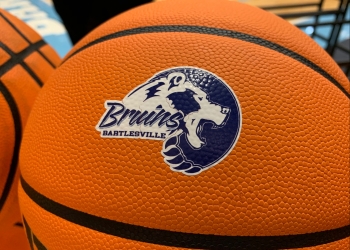 UPDATE:
No Bartlesville High basketball games at home against Union on Tuesday night. BHS will make up the game on Thursday, Feb. 2 with the girls at 6:30 and the boys at 8:00 on KWON and KWONTV.com.
----------------------------------------------------------
Bartlesville High back at home against Union in a Frontier Valley Conference double-header on Tuesday evening.
On the girl's side the Lady Bruins have a little momentum. BHS won two out of three games for a consolation bracket title during play in the Frontenac Raider Classic in Kansas over the weekend. The two victories put Bartlesville at 6-9 on the year.
Bartlesville got double-digit wins over Blue Valley Southwest and Lafayette, Missouri – both bigger schools out of the Show Me state.
On the Bruin guy's side Bartlesville is trying to find some wins before regional seedings lock. BHS has played a brutal schedule, which does ease up a bit in the next few weeks. Union, a usual juggernaut, stands at 8-7. The Redhawks are barely ranked in the top-20 in 6A.
Head coach Clent Stewart talks about this stretch for the Bruins.
Stewart, a Union graduate and former player under current head coach Rudy Garcia, has still yet to beat his former coach or club.
A 6:30 tip for the girls, guys to follow about 8:00 on KWON – AM 1400, FM 93.3 and 95.1.
Video livestream available as well on KWONTV.com.
« Back to Sports