Sports » Latest News
sports
Posted: Mar 24, 2023 7:20 AMUpdated: Mar 24, 2023 8:42 AM
Bruins Washed out Thursday - Play Friday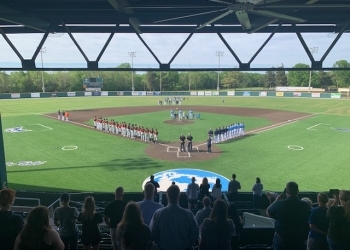 Bartlesville High baseball did not finish its game on Thursday, as the Bruins will now have two games pm Friday in their own Bruin Classic due to the Thursday afternoon storms.
The other two games between Sapulpa and Ponca City and Sapulpa and Sand Springs were played on Thursday.
Bartlesville will now play two games on Friday: Against Ponca City at 11:00 then will finish its game against Oologah at 4:00. The game against the Mustangs started on Thursday afternoon and was 0-0 after two innings.
The Bruins have been playing some of their best baseball of the early part of the season the past two weeks. Despite still not hitting at the level of the past few years, Bartlesville has been winning games with pitching and defense.
Head coach Cody Price talks about his team's recent play.
Bartlesville is hitting .279 as team and has an ERA of 2.74.
We will have updates and finals from Bill Doenges Memorial Stadium throughout the day.
BHS will play three games over the next two days.
« Back to Sports