Sports » Latest News
Caney Valley Football
Posted: Sep 15, 2020 4:50 PMUpdated: Sep 15, 2020 5:55 PM
Caney Valley Football Has Big Game with Liberty Upcoming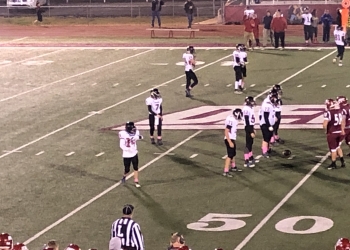 Caney Valley's football team has already experienced highs and lows in the 2020 season. On the heels of their shutout win over Hulbert in the opener the Trojans lost to Kellyville 64-0 last Friday. It wasn't all bad for Caney Valley who recovered three fumbles in the loss.
At 1-1, the Trojans will take on Liberty who was been frequent opponent on the Caney Valley non-district schedule in recent years. The Trojans are 6-2 all-time against Liberty. Last year, CV fell 8-7 in the contest. Former Copan head coach Shane Page leads the Tigers. Coach Mitchell gives a scouting report on the opponent.
Both teams enter the contest at 1-1. The Trojans have gone over .500 in non-district play just two times since the 2012 season. The Trojans head to Mounds for a 7 p.m. kickoff on Friday.
« Back to Sports