Sports » Latest News
Sports
Posted: Jun 23, 2022 7:17 AMUpdated: Jun 23, 2022 8:19 AM
Castillo on Team USA Once Again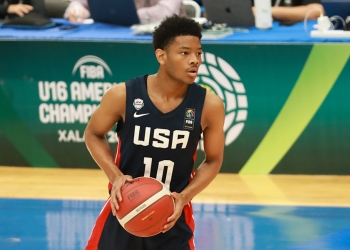 "Let's run it back."
Bartlesville High junior David Castillo has yet another career highlight, as the Bruin has made Team USA for the second time in as many summers.
Castillo was one of 12 guys on the final roster for U17 Team USA announced on Wednesday, which will compete in Spain in the FIBA World Cup beginning on July 2.
Castillo was one of 34 guys working out in Colorado Springs for the Team USA Mini Camp over the past five days. The roster was whittled to 18 finalists earlier this week and then the final 12 on Wednesday.
Castillo was a member of the U16 team this past summer, and was a part of Team USA winning the gold medal during another FIBA event in Mexico.
Four of the final roster invites on the U17 team were teammates with Castillo this past summer on the 16-and-under squad.
The team will compete in the 2022 FIBA U17 World Cup in Malaga, Spain. Team USA will look for its sixth-straight gold medal dating back to the event's inception in 2010 and boasts a 37-0 record.
Photo from USA Basketball
Lets run it back!?? https://t.co/vfiyJXxi34

— David Castillo (@ohyeadave) June 22, 2022
« Back to Sports