Sports » Latest News
Sports
Posted: Aug 05, 2022 7:29 AMUpdated: Aug 05, 2022 8:29 AM
Change Up in BSC Hall of Fame Honors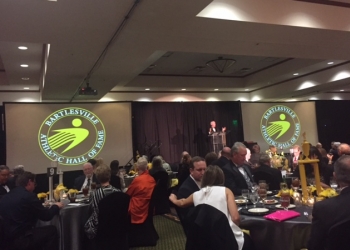 The Bartlesville Sports Commission has announced the date for the Hall of Fame Banquet, which will officially be on Saturday, Oct. 29 at the Hilton Garden Inn in Bartlesville.
There has been a change in the HOF lineup this fall.
The Bartlesville Sports Commission has added former Bartlesville High softball great Erica (Shepherd) Derryberry to the Class of 2022, replacing a honoree who decided to decline the award.
The team is the 1982 Bartlesville High softball club, which was the first Bruin team to win a state title after the high schools combined in the fall of '82 during a 31-7 season.
The coach: Terry Hughes, who began his coaching career at BPS during 1987. He was the head coach of the BHS girl's golf program from 1994-2018 and has served as the assistant athletic director at BHS for the past 11 years.
Another individual: All-around athlete Rickey Jackson, who was a 1973 College High grad with success in football, basketball and baseball. He played college basketball alongside Robert Parrish.
The community inductee is Adam's Golf Course Professional Jerry Benedict. Benedict has been the head pro at Adam's since 1986
« Back to Sports