Sports » Latest News
Sports
Posted: Oct 29, 2016 10:50 AMUpdated: Oct 29, 2016 11:50 AM
Dewey Falls To Claremore-Sequoyah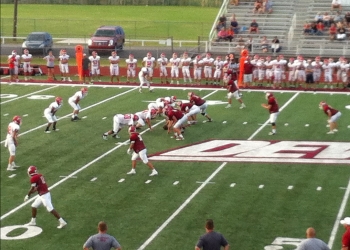 The Dewey Bulldoggers quest to host a playoff game came up short as Claremore-Sequoyah escaped with a 62-41 victory.
The Eagles began the game with an opening touchdown drive and took a 7-0 lead. Dewey responded on their second drive when Hunter Brewer scored on a two-yard touchdown run to tie the game at seven a piece. Dewey led as many as 14 points before the Eagles kept the game close. The Doggers led at halftime 27-21. In the second half, Claremore-Sequoyah took charge as they outscored Dewey 41-14 in the second half to go home with the victory. The Eagles took advantage of the Doggers miscues including poor tackling and a 74-yard punt return, and two fourth quarter turnovers that turned into points. Dewey had a good day on offense totaling 486 yards. Hunter Brewer continued his dominance as he rushed for 227 yards on 40 carries and scored three touchdowns. Blake Timmons went 12 of 20 passing for two touchdowns and an interception. Timmons also had a rushing touchdown. Both touchdown receptions went to Jonathan Blackmon.
Claremore-Sequoyah improves to 6-3 overall and 4-1 in district play while the Doggers fall to 5-3 overall and 3-2 in district play. Dewey goes to Sperry next Friday night. The winner will finish third and a loss would finish fourth.
« Back to Sports