Sports » Latest News
Dewey Football
Posted: Oct 20, 2021 2:40 PMUpdated: Oct 20, 2021 3:40 PM
Dewey Set for Battle with Rejoice Christian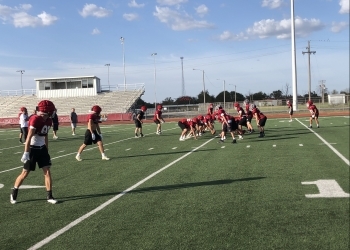 The Dewey Bulldoggers head into week 8 likely on the outside looking in for a potential bid to the playoffs. Dewey currently sits at 1-6 overall with a 1-3 district record. The way it currently sits the Bulldoggers would need to win its next three games and get some help with a tiebreaker.
Dewey has a tough task this week with district title contender Rejoice Christian coming to town. Head coach Trent Turner gives a scouting report.
Last year Dewey lost to the Eagles 41-0 on a windy Friday night in Owasso. With the playoffs likely out of the picture the focus for Dewey will be letting the seniors enjoy the ride but also evaluating which underclassmen will be building blocks for the future. Turner highlights some of the younger players that have caught his attention.
The Doggers host Rejoice Christian for a 7 p.m. kickoff at Bulldogger Stadium on Friday. No radio coverage this week for Dewey but the finale two games against Salina and Kansas can be heard on KRIG.
« Back to Sports