Sports » Latest News
Dewey Basketball, Pawhuska Basketball
Posted: Jan 13, 2021 12:42 PMUpdated: Jan 13, 2021 4:16 PM
Dewey to Host Pawhuska Ahead of Big Weekend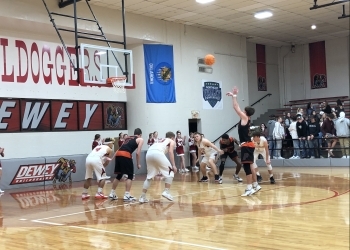 The Dewey Bulldoggers have made great strides in the middle portion of its season. Getting to play multiple games in the Oologah tournament last week aided the Doggers. Dewey held close to rival-Nowata in a 70-62 loss on Tuesday night. The Doggers lost the first matchup by 37 points.
Dewey will face Pawhuska in a Thursday night battle. The Doggers will also play Caney Valley on Friday and Sperry on Saturday. After missing several games first semester the Doggers are happy to have their schedule filled up. Dewey head coach Lance Knight talks about the busy weekend.
Pawhuska is currently ranked No. 9 in Class 2A. The Huskies are 5-1 on the season with it's only loss coming to No. 3 Pawnee in the finals of the Mike Kerr Classic in Morrison. The Huskies have played quality basketball so far this season.
You can listen to the boy's game between Dewey and Pawhuska at 8 p.m. on KRIG 104.9 FM. You can also watch and listen to the doubleheader on 99.1 FM KPGM and KPGMTV.com.
« Back to Sports