Sports » Latest News
Sports
Posted: May 25, 2023 7:09 AMUpdated: May 25, 2023 11:34 AM
Doenges Ford Indians Roster Set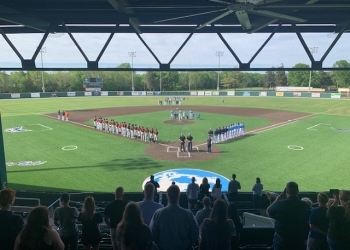 Official roster has been released for the Doenges Ford Indians and there are not a ton of surprises.
On the 16-man roster, 13 have previous summer experience with the Tribe. Eight are returners coming back after at least one season of college baseball.
There are five current or former Bartlesville High Bruins in Brenden Asher, Luke Fox, Harrison Clark, Hayden Catlin and Nik Johnson.
Players elsewhere come from Nowata, Wesleyan Christian School, Caney Valley, Glenpool, Barnsdall, Dewey, Quapaw, Woodland and Oklahoma Wesleyan University.
Bartlesville will begin its season in the 2023 Katzer Tournament in Ft. Smith Arkansas. The Tribe have made this trip three of the past four seasons. The Indians first game will be on Friday, June 2 at Huntz Park at 8:30 in the evening against Greenwood, Arkansas. The Tribe will be guaranteed three games in the opening weekend.
Returners:
Brenden Asher Bartlesville
Jace Thompson Nowata/Coffeyville CC
Kael Siemers Wesleyan Christian HS
Haden Fiddler Caney Valley/NEO
Kayden Young Sand Springs/OKWU
Keegan Woods Pangburn HS (AR)
Luke Fox Bartlesville/signed Seminole St
Harrison Clark Bartlesville/Allen CCC
Hayden Catlin Bartlesville
Matthew Winters Glenpool/Carl Albert
Josh Weber Barnsdall/York University
Cole Hancock Dewey/Central Christian
Nik Johnson Bartlesville
Rookies:
Kaleb Bashford Nowata
Dawson Morey Quapaw/signed OKWU
Donnie "Trey" Bennett Woodland HS
« Back to Sports