Sports » Latest News
Dewey Football
Posted: Oct 13, 2021 4:42 PMUpdated: Oct 13, 2021 5:42 PM
Doggers To Square Off with Claremore-Sequoyah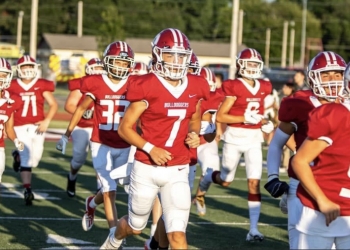 The Dewey Bulldoggers head into Thursday's contest at Claremore-Sequoyah with some momentum. Dewey defeated Nowata 40-16 last week. The Doggers have built some confidence and could potentially put themselves in playoff contention if their winning ways continue. Senior wide receiver Tate Lewis says it's all about believing.
Dewey is 1-5 but it has already played some of the tougher teams in the district already and will be looking at a lighter second half schedule. Claremore-Sequoyah comes in at 4-2 but has feasted on teams that will not contend for the district title. The Eagles will almost exclusively call run plays on offense. Dewey head coach Trent Turner talks about the defensive gameplan.
The Doggers are looking to snap an ugly 15-game losing against Claremore-Sequoyah that dates back to 2000. Radio coverage can be heard on KRIG 104.9 FM starting at 6:30 p.m.
\r\n
« Back to Sports