Sports » Latest News
Sports
Posted: Jul 10, 2019 6:20 AMUpdated: Jul 10, 2019 7:21 AM
Great American Conference Tournament Returns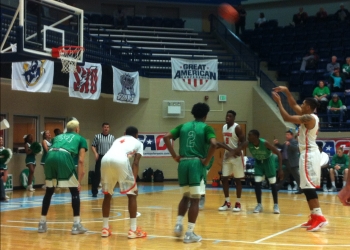 The Bartlesville Sports Commission had some surprising news released on Wednesday morning, as the BSC announced that the Great American Conference Men's and Women's Basketball Tournament will return to Bruin Fieldhouse for one more year - in March of 2020.
The NCAA Division II conference tournament was supposed to have ended its eight-year run with Bartlesville this past spring. Chairman of the Bartlesville Sports Commission Bob Pomeroy helps explain.
After speaking with key donors and volunteers from previous year's tournaments Pomeroy said the Sports Commission's board felt the need to help out the GAC and would host the tournament for one more year.
He believes the tournament will head to Tulsa at the UMAC for 2021 and 2022 seasons.
Bartlesville had hosted an NCAA Division II conference basketball tournament for 12 straight years after 2019.
Burnout from some of the people most involved with the event was cited as the reason the BSC chose to not re-bid on the tournament after their most recent contract ended this past March.
We will have more on this story – but the GAC Tournament will be back in Bartlesville in March of 2020.
« Back to Sports