Sports » Latest News
Sports
Posted: Oct 16, 2020 7:31 AMUpdated: Oct 16, 2020 8:32 AM
Huskies Pound Rejoice - Stay Unbeaten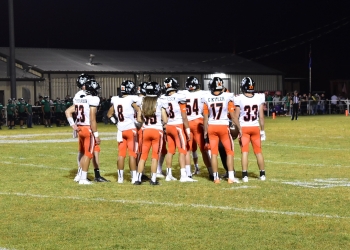 Pawhuska kept the Huskies win-trail rolling, as the dominant Dawg offense won the day again.
Pawhuska pounded Rejoice Christian 68-35 in a non-district replacement game.
The Huskies were scheduled to go to Oklahoma Union.
The game was not as close as the final score would indicate, as Pawhuska led 40-7 at half, and then 62-14 in the third quarter. The Huskies have improved to 7-0 on the year.
Pawhuska finds itself in an interesting situation in district play after the game against Oklahoma Union was called off. Both teams are still undefeated in district play – Thursday night's schedule contest is called a no-game - not a forfeit.
If the game is not made up, and the Huskies have any other teams cancel on them going forward, it is not inconceivable that the Cougars would have the inside track to win the district.
Pawhuska head coach Matt Hennesy says that if his team loses another game, they want to make up the game with Oklahoma Union.
Pawhuska is next at home against Afton.
« Back to Sports