Sports » Latest News
Posted: Jan 24, 2023 9:07 PMUpdated: Jan 24, 2023 10:07 PM
Huskies Sweep Tulsa CHEF with Overtime Thriller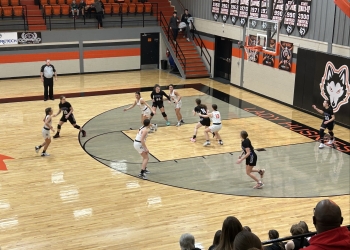 Pawhuska would host Tulsa CHEF in the final game of a five-game home stretch and come away with the sweep.
The Huskies were in a dog fight during the snowy Pawhuska night that needed overtime to decide the 40-36 Huskie win.
The Huskies would get out to an early 8-0 lead with this Canyon Hindman three.
But the rest of the game saw a slug fest where points came at a premium. 28-28 through regulation, the overtime period saw most offensive production in the game. The Huskies were able to get out to an early lead and suffocated the Arrows in OT.
Pawhuska improves to 6-10 this season.
The Lady Huskies would dominate from the jump winning 51-28. Over half of CHEF's points came in the fourth quarter.
The Lady Huskies were able to roll after a tough first quarter shooting with their bread-and-butter steal and score like this Miya Curry bucket.
Fallon Bowman would score 18 points in the win to help the Huskies improve to 14-3 this season.
The Huskies continue the January gauntlet Friday at Blackwell.
« Back to Sports