Sports » Latest News
Nowata Football
Posted: Nov 07, 2019 5:47 PMUpdated: Nov 07, 2019 6:47 PM
Ironmen Host Wyandotte for Senior Night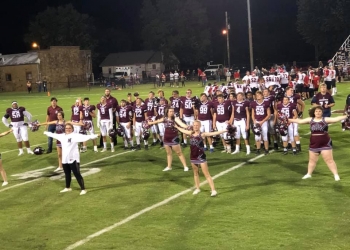 The Nowata Ironmen could lock up the third seed in 2A-4 with a win over Wyandotte on Friday night. It is also senior night for eight seniors who have seen the up's and down's over the last several years. Nowata head coach Chris Messner has been with the group for the past two seasons. Messner says this is a very important group of Ironmen.
At 4-5, Nowata has already locked up a playoff spot. The Ironmen will be playing for a chance at the No. 3 seed. As for Wyandotte the situation is clear—win and you're in. However, the Bears still have a chance to make the playoffs even with a loss. Coach Messner says the two teams have some similarities.
The Ironmen will play their final home game of 2019 at 7 p.m. Radio coverage can be heard on KRIG 104.9 FM starting at 6:30 p.m.
« Back to Sports