Sports » Latest News
Nowata Basketball, Oklahoma Union Basketball
Posted: Jan 13, 2020 4:44 PMUpdated: Jan 13, 2020 5:44 PM
Ironmen, Cougars Square Off in Top 20 Battle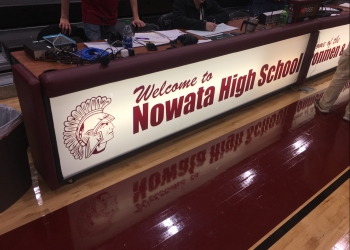 Two Nowata County rivals will meet in the Game of the Day on Tuesday as No. 3 Oklahoma Union hosts No. 19 Nowata. The Cougars are a perfect 11-0 while Nowata is 9-1 with a six-game winning streak in its pocket.
Oklahoma Union has yet to meet much of a challenge so far this season. The Cougars have had just two opponents get within 30 points of them. OKU head coach Lee Ott is not overlooking any Northeast Valley Conference opponents though.
The Ironmen are eager to prove that they belong among the best teams in 2A. This is the first time the Ironmen have popped up in the Class 2A polls. Nowata was set to play for the Commerce Tournament championship on Saturday night before snow hit the area and postponed the game until February 1.
The Ironmen have been led by junior Mark Price who is scoring more than 20 points per game. Nowata head coach Gary Hollingshead says that they been working to get open looks for their top player.
Radio coverage from Oklahoma Union can be heard on KRIG 104.9 FM. Pregame starts at 7:45 p.m.
« Back to Sports