Sports » Latest News
Sports
Posted: Oct 21, 2021 7:24 AMUpdated: Oct 21, 2021 8:24 AM
Jason Sport Show Previews PC West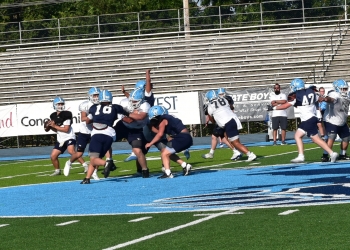 Bartlesville head football coach Jason Sport joined us on Wednesday night to talk about the Bruin's upcoming matchup at Putnam City West on Friday evening.
BHS has been playing much better on offense the past couple of weeks. After going through a 13-quarter drought on the scoreboard, Bartlesville has found the endzone in back-to-back games.
Its 340 yards of offense in last week's game at Ponca City was by far the most it's had all season. Bartlesville will have to do it on Friday with a different quarterback. Simian Gilkey was injured in the second half at Ponca, and Harrison Clark will take the reins on offense this week.
Sport says he is excited to see what he Clark can do.
You can re-watch the entire show from Dink's Pit BBQ on-demand at KWONTV.com. We will have the Bruins and Patriots on the radio and on KWONTV.com on Friday night, as well.
« Back to Sports