Sports » Latest News
Sports
Posted: Oct 13, 2021 7:28 AMUpdated: Oct 13, 2021 8:28 AM
Jason Sport Show Previews Ponca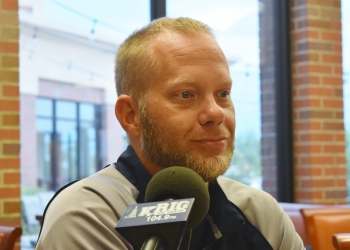 Bartlesville High head football coach Jason Sport will join us on Wednesday night on his weekly radio show from Dink's Pit BBQ, as the Bruins head into another district game on Thursday night.
Bartlesville travels to Ponca City (2-4). The Wildcats are entering off a big-win over Putnam City West. Bartlesville lost 49-14 to Muskogee at home this past Friday.
If you can't make it to Dink's, you can listen in on KWON – AM 1400, FM 93.3 and FM 95.1. Show runs from 6:00 until 6:45 or so as we will preview the ConocoPhillips Bowl, chat with a Bruin senior and talk about last week's game.
You can also watch the program on KWONTV.com.
« Back to Sports