Sports » Latest News
OKWU Basketball
Posted: Feb 22, 2021 10:05 PMUpdated: Feb 22, 2021 11:05 PM
Lady Eagles Host York in KCAC Tournament First Round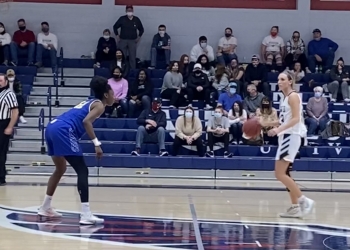 Postseason basketball is beginning at the college level this week as well. The seventh-seed Oklahoma Wesleyan women's team will host 10-seed York College in the first round of the Kansas Collegiate Athletic Conference tournament. Due to varying schedules for each squad this season, 12 of 13 teams qualify for the postseason tournament instead of the usual eight.
Seniors Hannah Nealis and Danae Goodwin are key pieces to the Lady Eagles playoff prospects. The duo combines for 28 points per game on average. OKWU head coach Grace Hadley says Nealis and Goodwin make drawing up offense fun.
The Lady Eagles swept York in the regular season—including a 21-point win at home in November. Radio coverage can be heard on Sportstalk 99.1 FM KPGM. Tipoff is set for 7 p.m.
« Back to Sports