Sports » Latest News
Sports
Posted: Mar 22, 2023 5:06 PMUpdated: Mar 22, 2023 6:08 PM
Lady Huskie Season Recap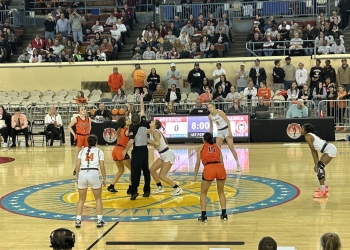 The Pawhuska Lady Huskies finished up its most successful season in program history right before spring break. The Lady Huskies made it to the semifinals of State Tournament with a 26-5 record.
Out of the five losses, four teams made the state tournament, two of those teams made the state championship game. The Lady Huskies were able to avenge two of the losses ending both teams' seasons.
Pawhuska Head Coach David Cash says his team was able to make the run by just playing the game.
The Lady Huskies defeated three top 10 teams in the straight playoff games including one in the state tournament.
Pawhuska was led by four-year starter Miya Curry who played a massive roll in making sure that there were no games too big for her team.
Coach Cash says a player like Curry is invaluable to a winning program.
The Lady Huskies look to keep the momentum of the 2022-23 campaign rolling into the next season as it has most of the pieces to get back to the state tournament next year and have the made the blueprint for future Lady Huskies teams.
« Back to Sports