Sports » Latest News
Nowata Basketball, Oklahoma Union Basketball
Posted: Feb 13, 2020 4:46 PMUpdated: Feb 13, 2020 5:46 PM
No Love Lost Between Ironmen and Cougars Ahead of Finale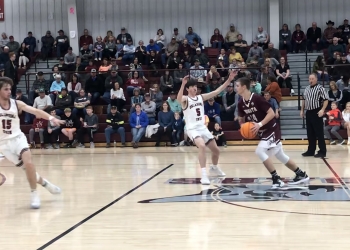 Before the Cougars and Ironmen start the playoffs they will close out the regular season with a Valentine's Day battle. The No. 1 Cougars are 18-1 on the season and already bagged a 10-point victory over Nowata on January 14. Cougars head coach Lee Ott says his team has rounded out the regular season by working on situational basketball.
The No. 16 Ironmen are hoping that they can play out a major upset even though it will not change the team's playoff scenario. Nowata has lost its last three games against its in inter-county rival. The Ironmen will be back home for the first time since February 4. Nowata won three straight road games since the last time it played at Ty Hewitt Court. Nowata head coach Gary Hollingshead talks about what he wants to see from his team going forward.
The best valentine's date in Nowata County is set for 8 p.m. Radio coverage can be heard on KRIG 104.9 FM.
« Back to Sports