Sports » Latest News
Sports
Posted: Jan 24, 2017 10:14 PMUpdated: Jan 24, 2017 11:44 PM
Nowata Sweeps Pawhuska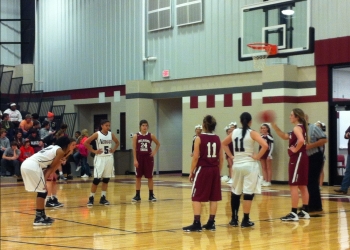 It was a clean sweep Tuesday night at Nowata as the Ironmen and Lady Ironmen basketball teams picked up wins against the Pawhuska Huskies and Lady Huskies. Lady Ironmen won 48-33 and the Ironmen picked up their fifth straight victory with a 68-38 win.
In the girls game, Nowata jumped out to a 23-9 lead after the first period before Pawhuska would try to make a comeback. Lady Huskies outscored Nowata 10-5 in the second period to trail 28-19. Nowata jumped out to a 12 point lead going into the fourth period and won by 15 points. Kennedy Downing led the Lady Ironmen with 17 points while Jordan Lewis added 11 points. Lady Huskies were led by Blake Allen's nine points.
In the boys game, the first three periods were tight until Nowata turned up play. The Ironmen led 39-30 and outscored the Huskies 28-8 in the fourth period to win by 30 points. Cody Smith made four 3-pointers to lead Nowata with 20 points, followed by Dalton Carter's 16 points, and Zen Callahan added 10 points. Pawhuska's Tyler Wilson led with 10 points.
Pawhuska's next game will be Thursday against Barnsdall while Nowata travels to Chouteau on Friday.
« Back to Sports