Sports » Latest News
Nowata Basketball
Posted: Feb 22, 2021 9:42 PMUpdated: Feb 22, 2021 10:42 PM
Nowata Tops Commerce in District Playoffs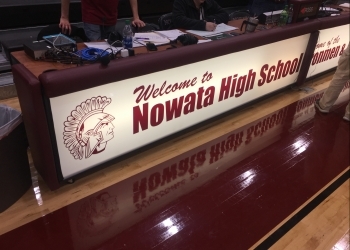 The Nowata Ironmen boys' team used a second half surge to get past Commerce 66-47 in the district playoffs on Monday night. Nowata led 32-30 at halftime and went on 16-3 run in five minutes of third quarter to put the game away.
Commerce paid plenty of attention to Ironmen star Mark Price on the defensive end. This forced Nowata's secondary scorers to come to life. Gabe Velasco, Trenton Smith, Jace Thompson and Skylar Stevens all notched double-figures. This triple from Velasco was one of four he hit on the night.
The Ironmen would hit ten three-pointers on the night. Price would score several buckets late to get to 12 points. Even in the blowout victory Nowata's height deficiency was apparent as the team was outrebounded by Commerce nearly two to one.
The Ironmen will head to regionals 1-0. Nowata will play Thursday at 8 p.m. against the winner of Tuesday's Pocola-Hulbert in Hulbert.
The Lady Ironmen fell 33-27 to Commerce.
« Back to Sports