Sports » Latest News
Sports
Posted: Jan 24, 2023 8:38 PMUpdated: Jan 25, 2023 10:51 AM
OK Union Splits Wins vs the Bulldoggers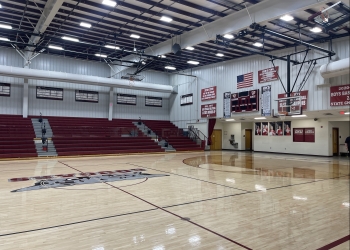 The Dewey Bulldoggers made the 40-minute drive to Oklahoma Union on Tuesday night, for some games scheduled earlier than usual due to the severe weather last night. Varsity girls started the night at 5 pm and the Dewey Bulldoggers head a lead majority of the second half and were able to close it out in the 4th quarter for a win.
On the guy's side, Oklahoma Union was coming off a nine-point loss to Morrison, and Dewey was coming off a 32-point victory in the 3rd place game of the Caney Valley tournament. This one was a similar story for the bulldoggers, who got up early and led the majority of the first half, only to stumble on themselves in the second half, losing to the Cougars 60-45.
The Cougars were on top 25-20 to start the 3rd before two straight 3's from Ryder Muninger for Dewey helped them crawl back in.
It would be all Cougars from there, outscoring Dewey in the second half, 35-25. Levi Kreider led the way for the Cougars with 18-points before fouling out in the 4th. Here is coach Oklahoma Union coach Brad Hall afterwards on the win over the Bulldoggers.
Cougars move back over .500 to 10-9 and the Bulldoggers fall to 6-11. Dewey is off until next Tuesday when they take on Nowata at home, and the Cougars travel to Chelsea on Friday.
« Back to Sports