Sports » Latest News
Oklahoma Union Basketball
Posted: Feb 22, 2021 9:53 PMUpdated: Feb 22, 2021 10:54 PM
OKU Gears Up For Playoff Opener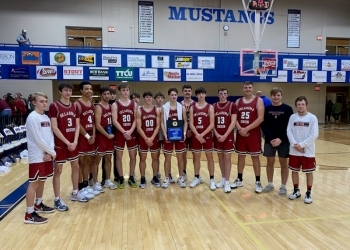 The Oklahoma Union Cougars have made it their goal all year to advance to the state tournament. Tuesday the postseason journey with a district playoff game at home against Ketchum. The Cougars were able to get in some practice sessions on the weekend after the winter weather subsided.
OKU should be confident having won 18 of 19 games this season. The No. 5 Cougars are a perfect 8-0 against 2A competition this season. OKU head coach Lee Ott says the regular season schedule was all about setting the team up to succeed in February and March.
Ketchum is 7-10 on the season. These two teams were scheduled to play February 9 before weather canceled that contest. The Cougars have won 24 straight home games dating back to the 2018 playoffs. Radio coverage can be heard on KRIG 104.9 FM at 8 p.m.
« Back to Sports