Sports » Latest News
Area Basketball
Posted: Feb 13, 2020 3:14 PMUpdated: Feb 13, 2020 4:14 PM
Preview of Class 2A and 3A District Playoffs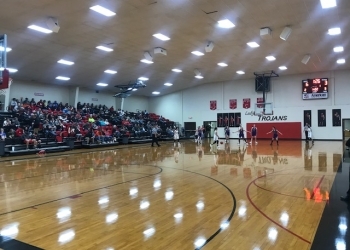 The high school basketball regular season is winding down for our area 2A and 3A teams. District and regional pairing have been announced as the postseason is slated to begin February 21. All of our 2A schools will be competing in Area I. (bracket here.)
The district selections were announced Friday. The three-team District 5 has stirred up quite a bit controversy among area coaches. No. 16 Nowata (18-3) received a bye and will face the winner of Caney Valley (13-7) and Pawhuska (15-6). These three teams have combined for 46 wins on the year. Trojans head coach Tug Brinker couldn't believe the pairings.
The frustration is understandable when you look at District 7, which features 12-win Hominy and two other teams, Preston and Drumright with a combined four wins. The Huskies will play Caney Valley on Feb 21. At 8 p.m. at Nowata. The Ironmen will play the winner the following day at 8 p.m. The winner of this district will continue play in Nowata for regionals, while the runner-up will play at Ponca City.
In District 2, No. 1 Oklahoma Union will have a Friday night bye before meeting the winner of Barnsdall and Mounds. The Panthers (10-10) should be the favorite against a Mounds team that has struggled all year. OKU has not faced Barnsdall this season.
The playoff path will take the Cougars west this season. Regionals are set to be played in Ponca City and the area tournament will be held in Enid. If the Cougars advance that far they will play in the State Tournament in Oklahoma City.
In Class 3A, the Dewey Bulldoggers (3-16) will play in a two-team district at Beggs (18-1). Dewey will be underdogs against the No. 6 team in the state. Win or lose the Doggers will advance to play in the Beggs regional.
You can read more on our lower classification teams here.
« Back to Sports