Sports » Latest News
Sports
Posted: Apr 09, 2020 7:05 AMUpdated: Apr 09, 2020 8:05 AM
Senior Spotlight - BHS Boys Soccer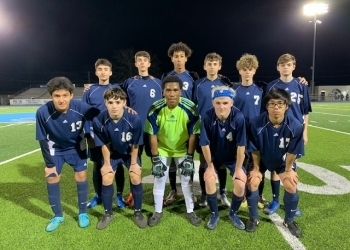 We continue to look at high school teams and seniors who had their spring cut short because of the coronavirus, as the OSSAA canceled all spring sports in late March.
The Bartlesville boys' soccer team had one of the most interesting and promising starts across the area, only to get the season cut off. The Bruins had gone 4-1 in dramatic style to begin the 2020 season.
BHS won three of those four matches in penalty kicks, the other was a come from behind win in the final mintues. As with most teams that had gotten off to a good start, Bartlesville will likely look back on this year and wonder what might have been.
Here is first year Bruin head coach Anthony Tucker.
The senior class for Bruin soccer had been through a lot of adversity with coaching changes and then the weird year of 2020. Bartlesville had four seniors in Trent Horinek, Gabriel Ontiveros, Connor Halferty and Jonah Collins.
Tucker says that this senior class has his respect for many reasons.
Halferty was unable to play in 2020 because of an injury. Ontiveros may be one of the best Bruin soccer players of all-time. His senior highlight was grabbing a hat-trick against Sand Springs during Bartlesville's wild comeback against the Sandites. Both Collins and Horniek were praised by Tucker, as well.
Tucker talks about all seniors.
Tucker says that the team is still talking nearly every day and they are looking forward to getting back on to the field.
Tucker says he has urged his guys to keep a routine to deal with the indefinite quarantine.
« Back to Sports