Sports » Latest News
Sports
Posted: Sep 12, 2019 7:28 AMUpdated: Sep 12, 2019 8:31 AM
Sport Talks Collinsville at Coach's Show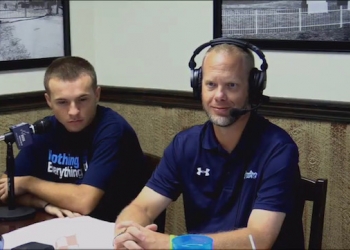 Bartlesville head football coach Jason Sport joined us on Wednesday night for the second installment of the Bruin football coaches show at Dink's Pit BBQ.
Sport preview the Bruins next matchup with Collinsville on Friday evening and also recapped Bartlesville's week one loss to Claremore.
After nearly completing a 26-point comeback against the Zebras but ultimately falling a bit short, Sport says he thought he knew how his boys would respond during the second half.
Both Bartlesville and Collinsville will enter Friday night's matchup at 0-1. The Cardinals lost to Oologah last week, 13-12.
Listen to The Entire Jason Sport Show
You can listen to that contest on Friday evening on KWON – AM 1400 and FM 93.3. Also online at BarltesvilleRadio.com and the Bartlesville Radio App.
You can watch the Bruins and Cardinals - as well as catch an archived TV version of the Coach's Show and check out the Claremore game all at KWONTV.com.
« Back to Sports