Sports » Latest News
Sports
Posted: Nov 07, 2019 7:25 AMUpdated: Nov 07, 2019 8:29 AM
Sport Talks Shawnee at Coach's Show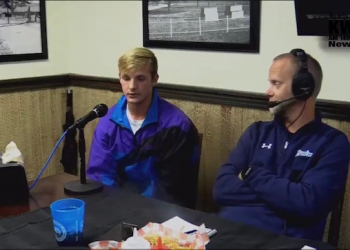 Bartlesville High head football coach Jason Sport spoke with KWON on Wednesday night during his final weekly radio show from Dink's Pit BBQ.
Sport recapped a fun 2019 season, and previewed the Bruin's final game at home against Shawnee on Friday night. Bartlesville gave the playoffs a run toward the end of the season.
Wins against Sand Springs and Ponca City set BHS up with a chance, but it couldn't overcome some big district point deficits from earlier in the season. Sport says he likes his team's ability to rebound from adversity, but he knows that Bartlesville needs to get out of the starting block better.
As Sport mentioned, even in the Bruin's two wins this season, they trailed 7-0 and then again 14-7.
Listen to a full archived broadcast of the Jason Sport Show.
Shawnee visits Custer Stadium at 7:00 on Friday night. A contest we will air on KWON – AM 1400 and FM 93.3. Also you can watch it online at KWONTV.com.
« Back to Sports