Sports » Latest News
Sports
Posted: Nov 23, 2022 7:39 AMUpdated: Nov 23, 2022 8:39 AM
WCS Football Looks to Future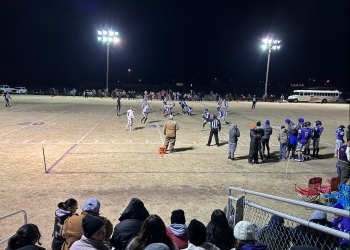 Let's take a look back at Wesleyan Christian School football this fall, as the Mustangs had one of the best seasons in Northeast Oklahoma come to a close this past Friday.
WCS fell at home to Mountain View-Gotebo, 34-20 in the Class C quarterfinals.
The game was close throughout, with Wesleyan Christian having the ball down a single score multiple times in the second half. WCS could never get into the endzone to tie it. Turnovers were a major issue, as the Mustangs uncharacteristically had four in the game.
Head coach Curt Cloud talks about the season ending loss.
With zero seniors and an undefeated district season, Wesleyan Christian looks primed to make another run in Class C next season. Cloud says with incoming eighth graders and other guys coming out, nearly 20 guys could be on the roster next season.
Cloud says there are things to be excited about moving forward.
We will have more wrapping up the 2022 football season throughout the next week.
« Back to Sports