Sports » Latest News
Sports
Posted: Aug 05, 2022 7:27 AMUpdated: Aug 05, 2022 8:27 AM
WCS Football Strong After Bump in Enrollment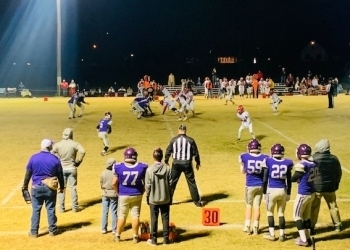 Wesleyan Christian School football has started to turn itself into one of the more successful programs in our area.
The Mustangs are trying to get back into the playoffs for the third straight year this fall.
Carson Tennison, Tyrel Cloud and Kael Siemers are the main returners. Head coach Curt Cloud also says he is excited about Bartlesville transfer Mason Jensen. WCS could have as many as 15 guys out for the team this year, which is one of the highest totals yet for the eight-man club.
Cloud says there are a few reasons for this.
In addition to those increased enrollment numbers, winning helps as well. The Mustangs went 8-4 a year ago, winning a home playoff game in Bartlesville.
Cloud says he believes this year's club will have a chance to win some more.
WCS will operate in Class C District-3 this year. The Mustangs take on the likes of Copan, Bluejacket, Coyle, Oaks and others. Last year Wesleyan Christian shared a district with powerhouse Timberlake, which has been shipped west for this two-year period.
WCS opens its season at Webbers Falls on Sept. 2. Football practice begins on Monday across the state of Oklahoma.
« Back to Sports