News
Osage County Commissioners
Posted: Jun 02, 2014 10:55 AMUpdated: Jun 02, 2014 10:55 AM
Commissioners Approve New Website in Osage County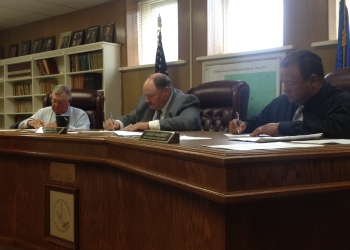 Colton Scott
Today, the Osage County Commissioners held their weekly meeting in Pawhuska.
Items on the agenda that were approved included the sale of tax property in Fairfax to a local couple, a change order with Sooner construction, and a contract with a company to create a website.
The property in Fairfax was sold for $380. The change order was for the amount of $1,297.91, and that will go to put concrete in the parking lot of the Business Development Center in Pawhuska so that lot is in compliance with drainage regulations.
The council also approved and signed the contract with Artstew to get a new county website up and running. It is expected to begin soon now that the contract has been awarded.
The council then approved bid contracts for things such as paper and cleaning supplies to be used throughout the districts, oil and lubricants for county vehicles and asphalt for road resurfacing projects.
The group will meet again next Monday at their regularly scheduled meeting.
« Back to News