News
Osage County
Posted: Jun 23, 2014 10:06 AMUpdated: Jun 23, 2014 10:10 AM
Osage Commissioners Approve Detention Services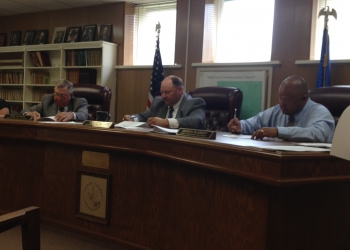 Colton Scott
The Osage County Commissioners held their weekly meeting on Monday morning where they approved and signed a contract with the Office of Juvenile Affairs agreeing to run and operate the detention center.
They also approved and signed a contract from Harold Huffman to provide detention services to Osage County youth.
During regular business, the commissioners also approved a contract for services between the county assessor and visual lease services in the amount of $39,500. That money will assist with appraisals of taxable oil and gas equipment and pipelines for the fiscal year 2014-2015.
They also discussed and then approved a resolution allowing advertisement of the new Osage County social media program that will include a new web site.
In one of the last items on the agenda, the commissioners also discussed approving a contract that would bring the Carson & Barnes Big Top Circus to the Osage County fairgrounds this Fall. Details are still being worked out on the item as to when the circus will actually be held.
The Osage County Commissioners will come together again next Monday for their regularly scheduled meeting.
« Back to News