News
Local schools
Posted: Jun 26, 2014 7:49 PMUpdated: Jun 26, 2014 7:49 PM
Jennings Chosen as Teacher of the Month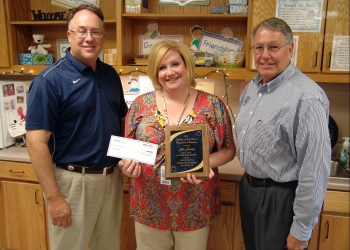 Charlie Taraboletti
Arvest Bank and Oakley Chevrolet-Buick have named Julie Jennings the Bartlesville Public School District Teacher of the Month for the month of June. Jennings is a third grade teacher at Richard Kane Elementary School. In recognition of her Teacher of the Month status, Jennings was presented with a plaque and a check for $300 by Stephen Colaw, Arvest Bank Senior Vice President and Trust Client Advisor and David Oakley Jr., owner of Oakley Chevrolet-Buick.
Julie Jennings has been teaching for a total of 17 years and has spent the last two years in her current role at Kane. In her classroom, Jennings sees the potential in each and every one of her students. For her, it is not about if they can learn, but how they learn. As such, she works to build a strong rapport with her students, getting to know their personality and how they learn best. It is the attention to detail which allows her to be an effective educator and make an impact on her class.
Jennings is always looking for ways to better herself and her school. She has taken part in professional development training for Data Teams which has allowed her to better analyze student data, and use the data to improve teaching techniques. She also has found great success in implementing the Great Expectations program in her classroom. Julie also served on Kane's Building Design Committee to help with the construction planning for the early childhood education center at Kane which was completed in August 2013.

« Back to News