News
Osage Nation
Posted: Jul 01, 2014 11:33 AMUpdated: Jul 01, 2014 11:36 AM
Osage Nation Inaugurates New Minerals Council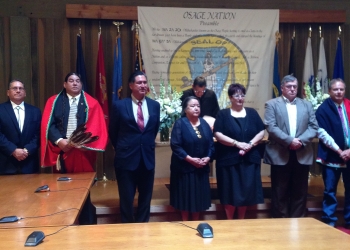 Colton Scott
This week marks the installation of many new Osage Nation leaders including the new Osage Minerals Council.
The eight-member Osage Minerals Council was sworn in and inaugurated on Tuesday morning at the Osage Minerals Council Chambers following a mass service that took place at 10 a.m.
The new council consists of three incumbents - Andrew Yates, Cynthia Boone and Galen Crum. They will be joined by Joseph Cheshewalla, Kathryn RedCorn, Everett M. Waller, Talee RedCorn and Stephanie Erwin.
Guest speaker Susan Forman spoke to the new council thanking them for their newly-appointed service to the Osage Nation.
"Congratulations to our newly-elected minerals council members. It took courage to run and to speak and to debate," Forman said.
The group was formerly known as the Osage Tribal Council, and it's comprised of royalty-interest holders who are elected to manage the tribe's minerals estate.
Osage Nation officials estimate that roughly 4,500 headright holders voted in the recent minerals council election.
Curtis Bear, Melvin Core and Myron Red Eagle ran for re-election but were unsuccessful in their bids.
Osage Mineral Council conducts regular meetings on the third Wednesday of each month in the Council Chambers located on the Osage Tribal Campus.
« Back to News