News
U. S. Congress
Posted: Jul 07, 2014 8:36 AMUpdated: Jul 07, 2014 8:36 AM
Bridenstine Expects to Visit Aliens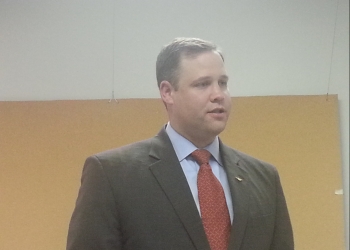 Charlie Taraboletti
First-District Oklahoma Congressman Jim Bridenstine expects to tour the facility at Ft. Sill housing the Unaccompanied Alien Children on Saturday. Staff at the Health and Human Servcies Facility denied the congresman access on July first. The U.S. Department of Health and Human Services (HHS) manager of the facility told him the next opportunity to visit would be July 21. HHS staff has indicated they now want to discuss a July 12 tour.
Congressman Bridenstine told the agency that he will not only make the showcase visit on Saturday, July 12, but he will also make unannounced visits. Bridenstine said ordinary Americans have a right to know what is happening in these facilities, how the children are being treated, and what is being done to stop this human tragedy. Bridentstine says the President has created this tragedy by failing to enforce border security. He is going to ask Congress for $2 billion tax payer dollars, not for border security but rather to expedite the process of illegal immigration.
In his letter to HHS, the Congressman requires transparency and access for himself as well as other Members of Congress, appropriate staff and edia. He also requests a written response to the concerns expressed.
« Back to News