News
Osage County
Posted: Jul 28, 2014 9:38 AMUpdated: Jul 28, 2014 9:38 AM
Commissioners Approve Sale Of Tax Properties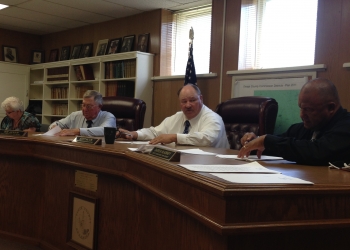 Colton Scott
The Osage County Commissioners met Monday morning for their last regularly scheduled business meeting of the month.
The started off the meeting by approving the sale of tax property for lots 5 and 6 in Pawhuska.
Then, the commissioners approved and signed the schedule of federal expenditures for the 2013/2014 fiscal year.
They also signed and approved several resolutions for future telephone line installation as well as advertising bids for a water truck for the fairgrounds and for one or more used pickup trucks.
Finally, they closed the meeting by approving the donation of agriculture and women's buildings at the Osage County Fairgrounds for the Osage Nation Head Start Safety Fair, which will take place on September 19.
The commissioners will meet again next week for their next regularly scheduled business meeting.
« Back to News