News
Dewey
Posted: Jul 31, 2014 10:02 AMUpdated: Jul 31, 2014 10:02 AM
Dwarfanators Extreme Wrestling Coming To Dewey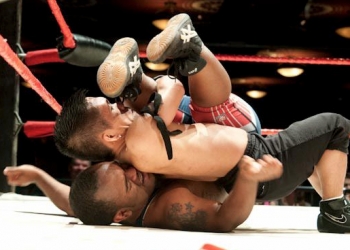 Colton Scott
On Saturday, August 2 at 7:30 p.m., the Dwarfanators Extreme Dwarf Wrestling team will be holding an event at the Washington County Fairgrounds in Dewey – Bartlesville radio reporter Colton Scott gives us a preview of the big event.
The Dwarfanators event will showcase dwarf wrestling where each opponent goes round after round vying for the championship title crown in a no holds barred competition.
Skyler Ward started the Dwarfanators in Oklahoma as a spinoff from the Extreme Midget Wrestling Federation.
Ward says he is expanding his shows from bar and club venues so that he can bring their unique brand of entertainment to kids as well.
"The bars and everything are cool, but I want to do something where the kids get to come," Ward said. "You got to be there and see the difference when you see the nightclub show and then when you see the kids getting all bent out of shape when somebody cheats you know, and they just absolutely love our show."
In the past several years, extreme midget wrestling has become more and more popular both among the little people who participate in the ring and the audiences who go to see the show from the sidelines.
The Extreme Midget Wrestling Federation is much like the WWE or the Worldwide Wrestling Federation except it showcases only little people – many of whom have wanted to work in the wrestling profession for years.
Ward also says that he wants to be able to use the Dwarfanators to help promote some good while still entertaining the public at the same time.
"What I want to do with the Dwarfanators – what the future is, it's going to be called just the Little Bit Foundation," Ward said. "What the Dwarfanators are going to do is they're going to inspire everybody to give just a little bit. The money is going to go for programs that have to do with kids. It's going to go into a foundation, and that foundation is going to start programs."
The Dwarfanators travel all over the country selling out arenas from state to state, and they currently have a reality show and documentary surrounding the sport in the works.
The event is open to the public and all age groups are welcome to attend.
Advance tickets for the Dewey show are $15 or $20 at the door. Ringside seats will also be available for $25 per ticket. Ages 10 and below cost $10.
For more information on this event – go to facebook.com/dwarfanators.
« Back to News