News
Local News
Posted: Aug 05, 2014 10:55 AMUpdated: Aug 05, 2014 10:55 AM
Dewey Recognizes Employees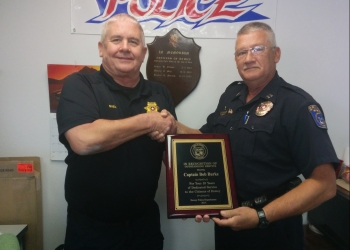 Jon Eastman
The Dewey City Council awarded a plaque to a longtime employee Monday night and recognized the work of another with a ten percent raise. Monday's meeting started with Dewey Police Captain Bob Burke being recognized for his 25 years on the force with a plaque. Burke began work at the Dewey PD on July 4 of 1989.
The council then heard an update from the School Resource Officer Jimmy Gray and Superintendent Dr. David Wilkins about the school resource officer program which was started last year. Wilkins said he has seen how having a police officer in the school has helped students make better choices and he is very appreciative of the program. Officer Gray followed this up with a statistic that was hard to ignore. The year prior to having a School Resource Officer on campus, 27 assaults were reported at Dewey Schools. Over the last year, with the officer on campus, only 2 occurred. With that information, the council unanimously approved funding the program for another year.
Finally, the council entered executive session to discuss the renewal of City Manager Kevin Trease's contract. After about 20 minutes in closed session, the council returned to the council chambers and approved renewing Trease's contract for a fifth year with a 10.5 percent raise. Asked after the meeting why the council decided to give Trease the raise, Mayor Ron Revard said it was an easy decision.
This is the second time in two years the council has awarded Trease with a raise, but last year Trease declined the raise because no other city employee was receiving a raise.
« Back to News