News
Local Schools
Posted: Aug 12, 2014 2:48 PMUpdated: Aug 12, 2014 2:54 PM
Phillips 66 Announces Signature Community Initiative Grant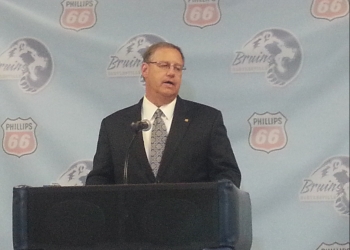 Charlie Taraboletti
Technology-oriented students in Bartlesville Public Schools will benefit from a Grant announced Tuesday by Phillips 66. Chairman and Chief Executive Officer Greg Garland announced a 1.7 million dollar contribution to build Phillips 66 Innovation Labs.
Garland says the labs will support science, technology, engineering, and mathematics -- or STEM -- education in Bartlesville's secondary schools. Garland said during a news conference that the labs will help boost Bartlesville's student participating and achievement in STEM. The funds are the result of a grant request from a team headed by Science Department Chairman Granger Meador and Board Member Scott Bilger. The labs will be fold into construction work going on at Bartlesville High School and at the two middle schools. Superintendent, Dr. Gary Quinn said the grant will help stimulate student interest at every level of education.
Chancellor of Higher Education in Oklahoma, Glen Johnson pointed specifically to the work that will be done in Bartlesville's middle schools and the importance of getting students working in STEM topic areas early.

Science Department Chairman Granger Meador summarized the work that will be done in the STEM labs as touching on every subject area.

School Board Member Scott Bilger agreed that while the gifted and talented students in the local schools will benefit a lot, the grant-writing team was particularly focused on the average student and getting them involved in science and technology.
The project is programmed to take advantage both of the teaching talent in the local school system and the wealth of retirees who have spent 30 years or more working in the science, engineering, and R&D fields.
« Back to News