News
Osage County
Posted: Aug 25, 2014 10:27 AMUpdated: Aug 25, 2014 10:27 AM
Osage Commissioners Discuss Fairground Fees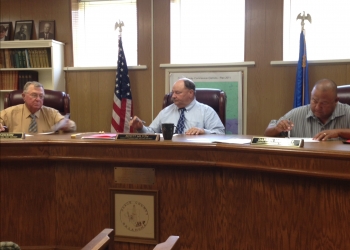 Colton Scott
The Osage County Commissioners met Monday morning for their last regularly scheduled business meeting of the month.
They started off the meeting awarding bids for a water truck and four used pickup trucks to be used throughout Osage County.
Then, Jeff Bute with the Pawhuska Roundup Club spoke and discussed with the commissioners fees for Osage County Fairground use. The commissioners took no action on this agenda item.
The commissioners also tabled the donated use of the Osage County Fairgrounds Ag Building for the annual Red Ribbon Pow Wow that will be held on October 25 from 1 p.m. to 9 p.m. They are set to okay this agenda item at next week's meeting.
The commissioners then approved entering into and signing an interlocal agreement with the town of Fairfax for clean up to be done.
Finally, the panel entered into executive session at 11 a.m. to interview and possibly hire for a maintenance position at the courthouse.
The group is set to meet again next Tuesday for their next regularly scheduled business meeting.
« Back to News